Music Overview
When It's Time to Play, We Go To Work!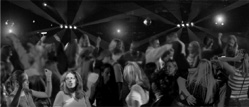 JAMMIN' DJs has over 30,000 songs in our Music Library. Our selections include latest releases, Dance, Pop, Rock, Techno, Alternative, Fund, R&B, Retro, Oldies, Country, Motown, Big Band, Swing, Jazz, Group participation, Polkas, dinner music… You name it, we've got it.
Once you reserve the date we email you a log in and password to our Music Request Site, and from there you can add songs to your "Must Play", "Play If Possible" & "Do Not Play Lists…  You can even listen to clips of the songs through your iTunes, and see the lyrics!  If you are stuck, our trained staff is more than happy to provide you with a list of songs that are most commonly requested!
New!  Not only will you be able to have fun choosing your music selections, but now we offer a "Guest Request List (With a log-in and password of their own) where guests can go online and select up to 4 songs each.  Our system will then rank the songs by popularity and give us a detailed list on the crowd's taste.   You will be able to email or print the link on any website, invitation, or event announcement!
If you're looking for a perfect mix of music at the appropriate volume for your next event, please be sure to request a price quote or give us a call anytime.